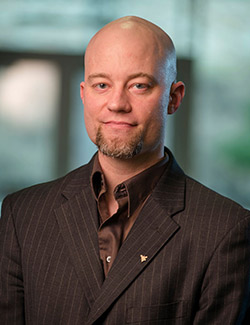 Shane Courtland Ph.D.
Expertise
Dr. Shane D. Courtland received a Ph.D. in Philosophy from Tulane University and is currently employed as the managing director of the Center for Free Enterprise at West Virginia University. Previously, Dr. Courtland was an assistant professor at the University of Minnesota, Duluth, where he was also the director of the Center for Ethics and Public Policy.
His area of specialty focuses upon political philosophy, theoretical ethics and applied ethics.
Dr. Courtland's publications have appeared in Pacific Philosophical Quarterly, Journal of Environmental Philosophy, Journal of Applied Philosophy, Journal of Mind and Behavior, Southwest Philosophy Review, Hobbes Studies, Reason Papers, Utilitas, Stanford Encyclopedia of Philosophy, Routledge's American Philosophy: an Encyclopedia, Routledge's Political Ethics, Wiley-Blackwell's The Ultimate South Park and Philosophy Book, and Wiley-Blackwell's House of Cards and Philosophy. He is currently working on an edited volume, Hobbesian Applied Ethics and Public Policy (Routledge 2017).
Education
B.A. in Philosophy and Political Science, University of Minnesota, Duluth
Ph.D. in Philosophy, Tulane University