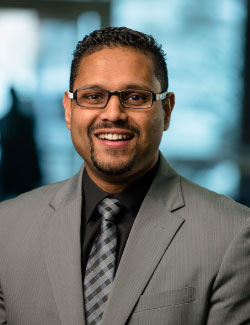 Ajay Aluri Ph.D.
Expertise
Dr. Aluri's research interests include hospitality management and information systems, predominantly in the areas of wearable technology (augmented and virtual reality), Internet of Things, data mining, social media, and consumer behavior. His research has been published in several top journals including Cornell Hospitality Quarterly, International Journal of Contemporary Hospitality Management, Journal of Hospitality and Tourism Education, Journal of Hospitality and Tourism Research, Journal of Hospitality and Tourism Technology, and other scholarly journals.
Dr. Aluri is an editorial board member of Cornell Hospitality Quarterly and two other cutting-edge hospitality journals, Journal of Hospitality and Tourism Technology and International Journal of Culture, Tourism, and Hospitality Research. He is also a board member of the International Council on Hospitality, Restaurant, and Institutional Education (ICHRIE) where he is currently serving as a Director of Networking. Prior to this position, Dr. Aluri served as a Director of Research (2015-2016) and Director of Networking (2013-2015) for the ICHRIE-North East North American (NENA) Federation.
Dr. Aluri has been invited to speak at several industry shows and conferences, including the world's largest hospitality and technology show, HITEC (hosted by the Hospitality Financial and Technology Professionals [HFTP]); Internet of Things (IoT) Summit; Hospitality Technology Next Generation (HTNG); International Hotel, Motel, and Restaurant Show (IHMRS); HOSPACE (hosted by Hospitality Finance, Revenue, and IT Professionals, London, UK); National Restaurant Association (NRA) Show; and Shamrock Food Shows.
Dr. Aluri is the Founding Director of the Hospitality Innovation and Technology (HIT) Lab, a platform to bridge the gaps between academic and industry research. He played a vital role in developing the Hospitality and Tourism Management program in the College of Business and Economics at West Virginia University (WVU). He also developed an innovative course, Hospitality Social CRM (Customer Relationship Management), aimed at utilizing social media platforms in the hospitality industry. Dr. Aluri incorporates real-life projects based on issues faced by hospitality businesses today, so that students can get hands-on problem-solving experience. This is part of Dr. Aluri's teaching philosophy that students are best prepared for life after the classroom by getting real-life learning experiences with actual businesses along the way.
Dr. Aluri is a recipient of the 2018 Excellence in Hospitality and Tourism Education award from the West Virginia Hospitality and Tourism Association. He was also awarded the 2018 "Friend of ProStart" award from the West Virginia Hospitality Education and Training (WV HEAT) in the West Virginia Department of Education, in recognition of his commitment and support for the ProStart students of West Virginia. Dr. Aluri received WVUs 150th Anniversary commemorative gold coin in 2018, given to only 150 individuals at WVU who exemplified the values of the university. He was listed in the Marquis "Who's Who in America" in 2017. Dr. Aluri received the 'Article of the Year' award from the Journal of Hospitality and Tourism Education in 2016. He is also a recipient of several best paper and poster awards in national and international conferences. A little further back, he was a recipient of the prestigious 2011 Phoenix Award for Outstanding Doctoral Student at Oklahoma State University (OSU), and also received a "Citation of Congratulations" for his contributions at OSU from the legislature of the State of Oklahoma.
Education
Ph.D., Hospitality Administration, Oklahoma State University
M.S., International Studies, Oklahoma State University
B.Tech., Computer Science and Information Technology, Jawaharlal Nehru Technological University, India