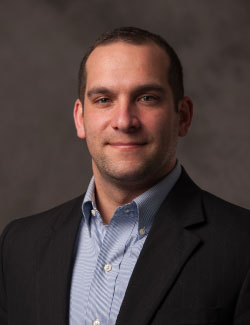 Gregory DeAngelo Ph.D.
Expertise
Dr. DeAngelo primarily conducts research in applied microeconomics, but also utilizes experimental economics tools in his research. Dr. DeAngelo focuses on decision making involving risk, uncertainty, fairness and inequity. Within this context, his research examines the dynamics of illicit markets, enforcement agents, and the deterrence of proscribed and risky activities.
Dr. DeAngelo's applied economics research leverages unique data that he scrapes and extracts or from law enforcement agencies that are used to analyze the market dynamics of illicit markets, the enforcement of laws and the interplay between law and order. This involves studying the role of experience in the enforcement of laws, the trade-off between private and public enforcement, the effectiveness of various law enforcement strategies on public safety, and the interplay among law enforcement and illegal institutions. His most recent research focuses on human trafficking, where he has been working directly with law enforcement agencies to generate tools and knowledge to be utilized in the identification of sex trafficking victims. To date his involvement with these agencies has identified thousands of active human trafficking victims.
Education
Ph.D., Economics, University of California at Santa Barbara
M.S., Economics, University of California at Santa Barbara
B.S., Economics, Rochester Institute of Technology