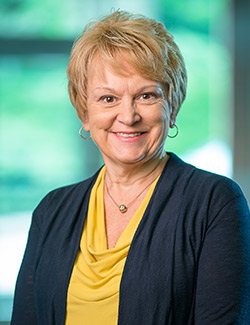 Denise Hayes
Expertise
Denise White has been finance director for the City of Morgantown since 1999, responsible for the administration of all city funds, including a general budget of $23 million and a capital budget of $8 million. Prior to that, she spent 13 years in public accounting, with a primary focus in taxation and governmental/not-for-profit auditing and accounting.
She has been an adjunct instructor in the College since 1997, teaching primarily principles of accounting and managerial accounting. She has also taught as an adjunct at Fairmont State University.
Certified by the West Virginia Board of Accountancy since 1987, White is a member of the CPA firm of Roth & White, A.C. in Kingwood, W.Va. She has been a member of the American Institute of Certified Public Accountants and the West Virginia Society of Certified Public Accountants since 1988.
White is a member of the Government Finance Officers' Association of the United States and Canada and a member and past president of the West Virginia Government Finance Officers' Association. She served on the PEIA finance board from 1998 to 2005 and was a participant in  the Governor's Tax Modernization Project.
Education
MBA, West Virginia University
BS, Accounting, West Virginia University