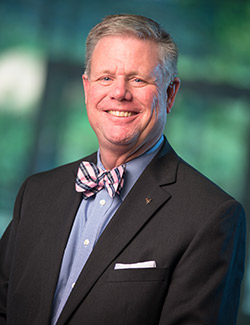 304-293-7960Michael.Walsh@mail.wvu.edu201Business and Economics Building View Curriculum Vitae
Marketing
Michael Walsh Ph.D.
Chair and Associate Professor
Expertise
Michael F. Walsh is a member of the faculty of the College of Business and Economics where he teaches courses in marketing at the graduate and undergraduate level.. His research interests include consumer resistance to change and marketing/public policy matters. His research has been published in the Journal of Public Policy and Marketing, Journal of the Association for Consumer Research and the Journal of Product and Brand Management. Prior to his appointment at WVU, Mike was on the faculty of the Joseph M. Katz Graduate School of Business while pursuing a PhD. In addition to his academic experience, Mike has extensive corporate experience. During his 20+ year career in general management, advertising and marketing, Mike has focused on specialized marketing communication strategies in business to business, high technology and consumer marketing communications. Prior to his joining the University of Pittsburgh, Mike oversaw Buchanan Ingersoll's marketing activities covering 350 lawyers in 13 cities and across five states, and was Senior Vice President and Director of Operations and Finance for Ketchum Advertising.
Mike serves on the board of director's executive committee of the Pittsburgh Civic Light Opera. P.O.W.E.R. He is past president of the Business Alumni Association of the University of Pittsburgh. He was a founder of the Information Technology Media Advisory Council and is a past member of the Board of Directors of BPA International, the Pittsburgh Advertising Club and the Pittsburgh Radio and Television Club. In 2015, Mike was named Educator of the Year by the Pittsburgh Chapter of the American Marketing Association.
Education
PhD, University of Pittsburgh 2005
MBA, University of Pittsburgh, 1990
BA, Duquesne University