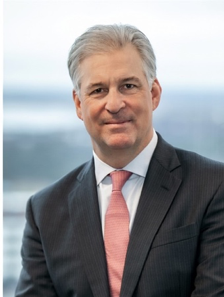 David Simmons joined PPD in 2012 as chairman and chief executive officer and served in this capacity until PPD was acquired by Thermo Fisher Scientific in December, 2021. In this role, he led the company's global workforce of more than 30,000 employees, across 46 countries, in the design and execution of drug development programs on behalf of pharmaceutical industry customers.
Under his leadership, PPD's total enterprise value more than tripled, the number of employees more than doubled and the company has received numerous accolades. Simmons was named the recipient of the Louis V. Gerstner, Jr., Excellence Award by The Carlyle Group in 2017 for exemplifying leadership excellence.

Simmons came to PPD following 15 years with Pfizer Inc. In his most recent position with Pfizer, he was president of the emerging markets and established products business units.
Simmons began his career in the steel industry with Wheeling-Nisshin Steel based in Follansbee, WV.
Simmons was born and raised in Wheeling, WV and earned a bachelor's degree in Applied Mathematics and Industrial Management from Carnegie-Mellon University.
Simmons serves on the boards of directors of Cordis, an innovative cardiovascular medical technology company, and CURIA, a biopharmaceutical manufacturing company. He serves as an Operating Partner with Hellman & Friedman, a leading private equity firm, and as a senior advisor to Abingworth, a leading lifesciences venture capital firm. He is active in philanthropic endeavors, which includes leading The Simmons Family Foundation and serving as a trustee of the Linsly School in Wheeling, West Virginia.