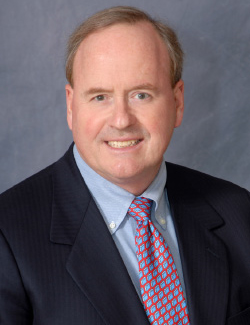 Patrick Graney, III, is the Chairman of the One Stop Company, which owns and operates more than 40 stores throughout West Virginia. He recently retired as the Eastern Regional President of Maxum Petroleum (now known as Pilot Logistics Services), a nationwide independent distributor of petroleum products.
After graduating from the University of Virginia in 1975, Graney started his career working in the coal industry and through his purchase of controlling interest in a small petroleum distributorship in late 1975 called Petroleum Products, Inc. Following several years of working in both industries, he returned to the University of Virginia Darden School to earn an MBA degree. He then returned to Petroleum Products and founded the One Stop store chain.
Petroleum Products grew from 11 West Virginia employees to a multi-state business serving the coal, construction, oil and gas drilling businesses. Graney merged the business into a nation-wide firm, and still maintains a significant financial interest in the firm, now associated with Pilot-Flying J and employing several hundred who provide a range of fueling and service activities.
He served as Financial Strategist to the Governor of West Virginia in the Office of Community and Industrial Development from 1985-87. Graney is also involved in real estate development, oil and gas, and well development and other investment projects. He was appointed in December 2008 to the Richmond Federal Reserve, serving from 2008-13. He has served on several national advisory boards in the petroleum industry and is a current director and past president of the West Virginia Oil Marketers and Grocers Association (OMEGA). He is now in his second major term on the Board of Trustees for the University of Charleston. A native West Virginian, Graney was born in Charleston and grew up in Mount Hope, West Virginia. He resides in Charleston with his wife Jessica, and is the proud father of four sons and three grandchildren.