Chambers College alumni and friends: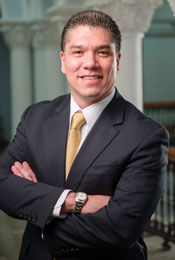 Five years ago, I was welcomed to West Virginia as I began my journey as Milan Puskar Dean of the John Chambers College of Business and Economics.
Saying yes to the opportunity to become a Mountaineer has been one of the best decisions of my career. I am tremendously proud of the sense of shared purpose, energy and support I see from my colleagues every day as we push boundaries and lead our students and state into the future. Together as West Virginians, we have transcended possibilities and accomplished so much.
Today, it is with mixed emotions that I share that I have been selected to be the next provost and vice chancellor for academic affairs at the University of Illinois-Chicago. You can read the full announcement here.
We often echo the words of our namesake and encourage our students to dream big and pursue opportunities where they can make an impact. Those words have guided me in what has been a very difficult and carefully-considered decision to lead UIC's academic mission. It is another world-class research university that is home to a culturally rich and diverse student body. I was deeply inspired by their designation as a Hispanic-Serving Institution and their commitment to transforming the world through eliminating disparities in economic opportunities, health, and education. This is an incredible opportunity where I believe I can make an impact.
As I transition to my new role at UIC on Aug. 16, Associate Dean for Research and Economics Chair Joshua Hall will step in to lead the College as Milan Puskar Dean with a two-year appointment. We are uniquely positioned to continue building upon our efforts to make our College a pillar of innovation and experiential learning as we transition into Reynolds Hall in 2022, and Dr. Hall has my confidence and full support, along with the confidence and full support of University leadership, to continue to move our College forward from a position of strength. You can read more about Dr. Hall's accomplishments here.
I believe that West Virginia's best days lie ahead because of the tremendous talent and tenacity of Mountaineers near and far, who will fearlessly lead our students and state into the future with heart, hustle and a pioneering spirit.
It has truly been an honor to lead the Chambers College as Milan Puskar Dean and West Virginia University as vice president for Start-up West Virginia. I will forever be a proud Mountaineer – and I will be cheering on WVU and the Chambers College every step of the way.
Best wishes,

Javier Reyes
Milan Puskar Dean, Chambers College
Vice President, Start-up West Virginia